There's no place like home, especially when that home is the wonderful city of Montreal! If you're a local, or just planning on visiting soon, you'll be happy to know that cannabis is more accessible than ever before.
The Canadian government has made it legal for adults to purchase and consume cannabis. So what does this mean for you? Well, if you live in Montreal (or are planning on visiting soon), there are many locations that sell cannabis. In fact, there are numerous weed dispensaries in Montreal that have been hidden in plain sight for years!
What's Changed Since Cannabis Became Legal?
The Canadian government has made cannabis legal for adults to consume, grow, and buy. This includes both recreational and medical cannabis. Recreational cannabis can be consumed any time.
You can smoke cannabis in public areas, but not anywhere near children, such as parks, beaches, playgrounds, etc. If you smoke in public, you must be at least 9 meters away from a building. You can also consume cannabis in your home as long as it is out of the reach of minors. As well as consumption of edibles and tinctures, but these products can only contain 10 mg of THC.
You can also use cannabis oils and creams, but there are restrictions on dosage. If you are using cannabis for medical reasons, there are many legal ways to consume it. For example, you can use a vaporizer, or you can consume cannabis-infused foods.

Weed Dispensaries in Montreal: What to Know Before You Go
Before you walk into any weed dispensary, it's important to know the types of cannabis products you can purchase.
First, you can purchase cannabis strains and pre-rolled joints. Second, you can purchase cannabis oils and creams. And third, you can purchase edibles and tinctures.
If you are purchasing dried flowers, you can choose between Indica and sativa. Indica strains are more calming and relaxing while sativa flowers are more energizing.
If you want to purchase cannabis oils or creams, you can choose between Indica, sativa, CBD, or hybrid. CBD is very potent and great for calming the body. Hybrid is a balance between Indica and sativa strains. And if you want to purchase edibles, you can choose between CBD, THC, or a hybrid.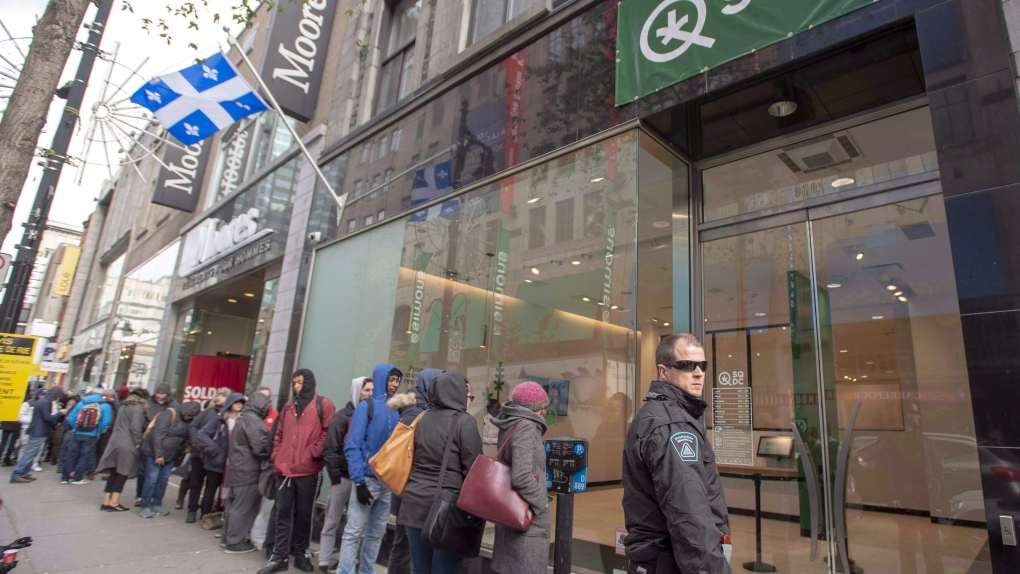 Buy Weed in Montreal
Only the SQDC is authorized for the retail sale of cannabis in Montreal, Their mandate is primarily social, as it consists of selling cannabis in Québec while prioritizing the health and safety of our customers. To that end, the SQDC undertakes to sell quality, lower-risk products and to inform and educate users on how to minimize the health impacts of cannabis consumption.
The good news is you don't need to leave your house to buy marijuana. In fact, you can do it right now when reading this on your laptop or phone.
Mail order marijuana delivery in Montreal is very popular, as you can get your favourite product from a trustworthy source and have it delivered right to your door.

More Information About the Legality of Cannabis
The government has put in place clear regulations about the sale and possession of cannabis, making it clear that it is legal for adults to purchase and consume it. However, you must be cautious to remember that cannabis is still illegal in many places, including the United States.
We recommend that you be responsible and not travel with cannabis, nor should you attempt to cross the border with cannabis in your possession. If you are visiting from another country. You should be aware that cannabis may is treated differently in other countries than it is in Canada.
Although Montreal has legalized cannabis, there are many that have not. Be sure to check the laws of the country that you are visiting to ensure that you are not breaking any laws.

Mail Order Marijuana in Montreal
If you don't feel like going to a weed dispensary, you can order marijuana online and have it delivered to your home. There are many online shops that sell weed. You can search for these shops online to view their products and prices. When you decide which shop to purchase from.
Herb Approach is an online mail-order marijuana supplier. The company is a licensed distributor of cannabis products that are available to customers all across Canada. Herb Approach provides customers with access to high-quality, potent cannabis products. It takes about 1-3 days to have your cannabis delivered. You will receive a tracking number, so you can track your order. You can choose to have your cannabis delivered by Canada Post or a delivery service. Make sure that the delivery service is able to drop off cannabis products at your address.

Conclusion
There are many different cannabis products you can purchase at Montreal cannabis shops. These shops have been hidden in plain sight for years. If you live in Montreal or are planning on visiting soon, you have many options for where to buy weed.
Before you shop for cannabis, you should know the different types of products you can purchase. You can choose between dried flowers, edibles, oils, and tinctures.