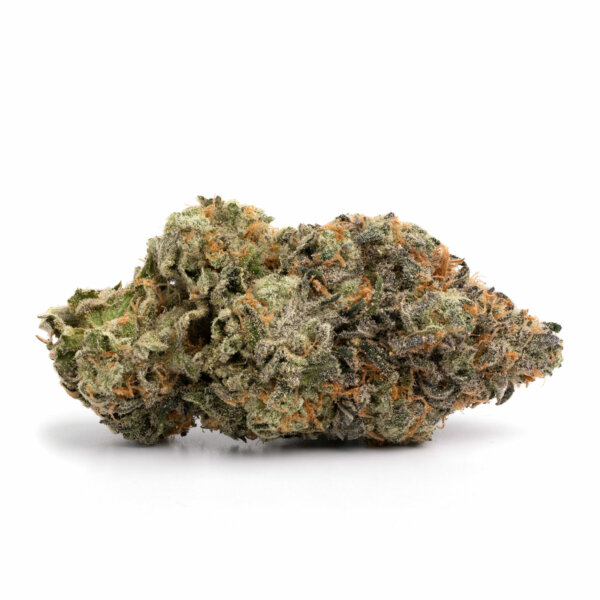 Zkittlez Strain Information
Are you a fan of dessert strains? What about tropical flavors? Are you more in the weed space for exploring creative new taste profiles? If you answered yes to any of the above, have we got a treat for you! Zkittlez is an Indica-dominant hybrid that delivers a host of mouth-watering flavors. But this isn't just a one-hit wonder – Zkittlez is also a high-performing strain, with THC levels that often average at 29%. So, if you're looking for a flavorful and potent strain, your search should stop at Zkittlez.
Named after the iconic candy, Zkittlez is a cross between Grape Ape and Grapefruit. As you can probably guess, this strain smells and tastes like a fruit salad – think grapes, citrus, and berries. The flavors are also accompanied by a sugary sweetness that makes this strain all the more enjoyable. But the flavor isn't the only thing attractive about Zkittlez – this strain also boasts some pretty impressive genetics.
With one Indica and one sativa parent, Zkittlez offers the best of both worlds. The Indica genetics give this strain a relaxing body stone, while the sativa genetics provide uplifting and cerebral effects. This makes Zkittlez a great choice for those looking for a well-rounded high.
Aroma
Where do we even begin with this one? Zkittlez has a complex and tantalizing aroma that can please even the pickiest of smokers. The first thing you'll notice is the grapefruit scent, quickly followed by notes of berries and citrus. Crushing the buds of Zkittlez will remind you of opening a bag of skittles – seriously, this strain smells that good.
Flavor
Zkittlez lives up to the hype when it comes to flavor. This strain tastes exactly like it smells, with dominant notes of grapefruit and berries. There's also a subtle sweetness that lingers on the tongue, making each hit even more enjoyable. If you're a fan of dessert strains, Zkittlez is definitely one that you need to try.
Appearance
Appearance-wise, Zkittlez leans more towards its Indica genetics. The buds on this weed are densely packed, with striking light green and purple hues. The trichomes are also very pronounced, giving the buds a frosty appearance. And, of course, a contrast is added by the bright, orange pistils!
Zkittlez Strain Effects
As soon as it hit the market, Zkittlez quickly climbed up the ladder to become one of the most popular strains around. And it's not hard to see why- this weed offers a well-balanced indica-sativa high that's perfect for any occasion. Not only did it capture the minds and hearts of 420-lovers, it also swept up several Cannabis Cup awards and won the 1st rank at the Emerald Cup in 2016.
Smoking this multiple award winner will take you on a high like no other. Zkittlez starts off with a cerebral headrush that gets your creative juices flowing. You'll feel an uplifting sense of euphoria, accompanied by a strong case of giggles. The high then mellows into a relaxing body stone that leaves you feeling nice and couch-locked. Despite its Indica-dominance, Zkittlez won't leave you feeling weighed down – rather, it offers a pleasant and enjoyable high that's perfect for kicking back and relaxing. Whether you're looking to focus on a project or just watch some Netflix, this strain won't disappoint!
Zkittlez is also popular for its medical benefits, as it can effectively provide relief from conditions such as stress, anxiety, and depression. It can also help to ease pain and inflammation, making it a great strain for those with chronic conditions. So, whether you're looking for some recreational fun or medical relief, Zkittlez has got you covered.
THC Content
19-25%
Buy Zkittlez Strain Online
Don't underestimate this sweet-tasting strain; Zkittlez is a powerhouse that packs a punch! Also known as Skittles, Island Skittles, and Skittlz, Zkittlez is the mega-hit that took the cannabis world by storm. As one of the most popular strains out there, Zkittlez is now available in dispensaries across the globe.
But who has time to head outdoors and compete with the dispensary crowd when you can just buy Zkittlez online? We're proud to offer this multiple award-winning strain at the click of a button. So, add your grams to the cart and checkout – we'll take care of the rest!
Please register to get your referral link.
Referral Program
For every friend you refer who completes their first purchase, we will send you a coupon code worth $25 that you can use to get a discount on any product on our site. Get started now, by sharing your referral link with your friends.
https://herbapproach.com/product/zkittlez/
MORE ITEMS TO CONSIDER
Rated 4.66 out of 5
$

19.99 –

$

179.99
$10.00/g
$8.57/g
$7.86/g
$2.86/g
$6.43/g
Taxes Included